My Blog
Posts for: September, 2020
By Drs. Papadea and Perry Family and Cosmetic Dentistry
September 17, 2020
Ever have a paper cut or an irritated hangnail? They're not considered major health problems, but, boy, can they sting!
Something similar can occur in the corners of your mouth called angular cheilitis. It's also known as perleche, from the French word "to lick" (a common habit with this type of sore). It can occur at any age, with children or young adults developing it from drooling during sleep or orthodontic treatment.
Older adults, though, are more prone than younger people for a variety of reasons. Age-related wrinkling is a major factor, especially "marionette lines" that run from the mouth to the chin. Dried or thinned out skin due to exposure from cold, windy weather may also contribute to perleche.
Perleche can also develop from within the mouth, particularly if a person is experiencing restricted salivary flow leading to reduced lubrication around the lips. Poorly cleaned dentures, weakened facial supporting structure due to missing teeth, vitamin deficiencies and some systemic diseases can all lead to perleche. And if an oral yeast infection occurs around the cracked mouth corners, the irritation can worsen and prolong the healing process.
To clear up a case of cracked mouth corners, you should promptly see your dentist for treatment. Treatment will typically include some form of antifungal ointment or lozenge applied over a few days to clear up the sores and prevent or stop any infection. You might also need to apply a steroid ointment for inflammation and other ointments to facilitate healing.
To prevent future episodes, your dentist may ask you to use a chlorhexidine mouthrinse to curb yeast growth. If you wear dentures, you'll need to adopt a regular cleaning routine (as well as leaving them out at night). You might also wish to consider updated dental restorations or orthodontics to improve dental support, and help from a dermatologist if wrinkling might be a potential cause.
Cracked mouth corners won't harm you, but they can make for a miserable experience. Take steps to relieve the irritation and any future occurrence.
If you would like more information on angular cheilitis or similar oral conditions, please contact us or schedule an appointment for a consultation. You can also learn more about this topic by reading the Dear Doctor magazine article "Cracked Corners of the Mouth."
By Drs. Papadea and Perry Family and Cosmetic Dentistry
September 07, 2020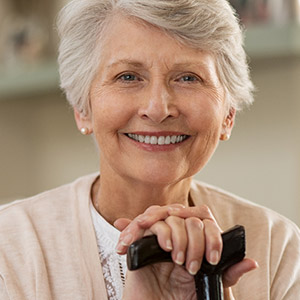 A fair number of people with total tooth loss have arrived at this point after a long history of dental issues. It's quite likely they've had a series of bridges or partial dentures over the years to accommodate lost teeth at various times before moving to full dentures.
For many, it often seems easier to extract any remaining teeth at some point and simply move on to a total restoration. It's often better for oral health, however, to preserve any remaining teeth for as long as possible and update restorations as needed. Dental implants could make this type of staged restoration strategy much easier to manage.
Implants are tiny metal posts surgically imbedded in a patient's jawbone. Over time, bone cells grow and adhere to the implant's titanium surface, creating a strong and durable hold. Its most familiar application is as a replacement for an individual tooth.
But because of their strength and durability, this advanced dental technology is also used to support other restorations like bridges and partial or full dentures by way of a few strategically placed implants. And it's in that role that they can be useful in planning and implementing future restoration upgrades when needed.
Under this strategy, we add implants to supplement pre-existing implants from earlier restorations to support the updated dental work. For example, we might have previously placed an implant supporting a single tooth or a small bridge. When the need later arises for a partial denture, we can add additional implants to be used with the earlier one to support the new denture.
If the earlier implants have been well-placed, we need only to add enough implants necessary to support a full denture when the time comes. How many will depend on the particular type of denture: A removable lower denture may only require one additional implant with one already in place. A fixed upper or lower denture will require enough to bring the number to between four and eight.
Taking this long-term approach can be more cost-effective in the long-run. More importantly, it can make for a smoother path for the patient and help preserve remaining teeth for as long as possible.
If you would like more information on restoration options for lost teeth, please contact us or schedule an appointment for a consultation. You can also learn more about this topic by reading the Dear Doctor magazine article "Replacing All Teeth but Not All at Once."