My Blog
Posts for: January, 2021
By Drs. Papadea and Perry Family and Cosmetic Dentistry
January 15, 2021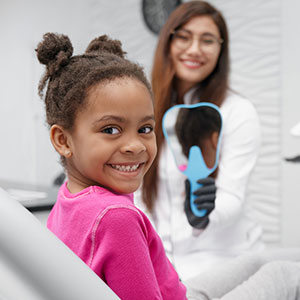 Being a parent can be a rewarding role. But it's also hard work, especially the effort required in keeping children healthy. In that respect, there's one area you don't want to overlook—their dental health.
Taking care of their teeth and gums has two aspects: their current state of dental health and their ongoing development that impacts future health. Fortunately, you can address both the present and the future by focusing on the following areas.
Prioritizing oral hygiene. From the moment your child is born, you'll want to practice daily oral hygiene to keep their teeth and gums clean of disease-causing bacterial plaque. This starts even before teeth erupt—simply wipe their gums with a clean wet cloth after feeding. As teeth emerge, begin brushing each one with a small amount of toothpaste. Around your child's second birthday, start training them to brush and floss on their own.
Limit their sugar intake. The biggest threat to your child's teeth is tooth decay, which is caused by bacteria. These bacteria multiply when they have plenty of sugar available in the mouth, one of their primary food sources. It's important then to reduce the sugar they eat and limit it to mealtimes if possible. Also avoid sending them to bed with a bottle filled with sweetened liquids, including juices and even formula.
Visit the dentist. You're not in this alone—your dentist is your partner for keeping your child's teeth healthy and developing properly. So, begin regular visits when your child's first teeth appear (no later than their first birthday). You should also consider having your child undergo an orthodontic evaluation around age 6 to make sure their bite is developing properly.
Practice oral safety. Over half the dental injuries in children under 7 occur in home settings around furniture. As your child is learning to walk, be aware of things in your home environment like tables and chairs, or hard objects they can place in their mouths. Take action then to move these items or restrict your child's access to them.
Good habits in each of these areas can make it easier to keep your child's teeth and gums healthy and on the right development track. That means good dental health today that could carry on into adulthood.
If you would like more information on children's dental care, please contact us or schedule an appointment for a consultation. You can also learn more about this topic by reading the Dear Doctor magazine article "Top 10 Oral Health Tips For Children."
By Drs. Papadea and Perry Family and Cosmetic Dentistry
January 05, 2021

Dental implants are a reliable way to replace teeth. More than 95% of implants survive ten years after their installation, and many of these could conceivably continue for decades.
But that still leaves a tiny few that don't reach the ten-year mark. Some fail early because the implant didn't integrate fully with the bone to create a durable hold. But others fail later—usually for one of two major causes.
Some failures occur due to over-stressing of the implant from abnormally high biting forces, usually because of teeth grinding. People who have this involuntary habit generate excessive force as they grind their teeth, which can damage implants (as well as natural teeth). To reduce this force, a patient's dentist can fit them with a biteguard they wear in the mouth to prevent teeth from making solid contact with each other during a grinding episode.
Fortunately, teeth grinding isn't that prevalent among adults—but that can't be said about the other major cause for implant failure: periodontal (gum) disease. This is a bacterial infection caused by dental plaque, a thin, bacterial film that accumulates on teeth. The implant itself isn't affected by the infection, but the gums and underlying bone supporting the implant can be.
Implants are most in peril from a form of gum disease called Peri-implantitis, which spreads deeper into the gum tissues around implants faster than infections around natural teeth. That's because implants lack the gum attachment of real teeth, which supply a collagen barrier that slows the spread of infection. Peri-implantitis can quickly infect the supporting bone and eventually weaken its connection with the implant.
Because of its aggressiveness and speed, we must diagnose and treat peri-implantitis as soon as possible to limit any damage to the support structures around an implant. If you notice any swollen, reddened or bleeding gums, you should call your dentist as soon as possible for an examination.
And in light of this potential danger to your implants, you should also strive to prevent gum disease through daily oral hygiene. Brushing and flossing your teeth, including around your implants, removes harmful plaque buildup. This daily habit and regular dental cleanings will help you avoid a costly gum infection and ensure your implants are there for years to come.
If you would like more information on dental implants, please contact us or schedule an appointment for a consultation. You can also learn more about this topic by reading the Dear Doctor magazine article "Dental Implants: A Tooth-Replacement Method That Rarely Fails."