My Blog
Posts for: September, 2014
By Drs. DuBose & Papadea Family & Cosmetic Dentistry
September 24, 2014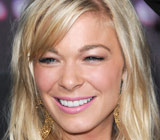 Singer LeAnn Rimes was forced to cancel a string of performances recently, as a more pressing engagement came up: a late-night meeting with her endodontist. It turned out that the country-pop star needed some emergency dental work performed while she was on tour. But her die-hard fans needn't have felt left out — Rimes faithfully tweeted each stage of her dental treatment.
The trouble began before she was scheduled to play a show in Ohio. "Waiting on the endodontist to meet me and do a nighttime root canal," she informed her twitter followers. Instead of performing, Rimes was advised to spend the next few days resting after the emergency treatment. "Happy Friday! I'll be spending mine in bed," she tweeted after the previous evening's procedure. The following Monday, Rimes returned to the dentist's chair for follow-up treatment.
It turned out that the singer had been battling dental pain for months. "I am so disappointed that I can't make it to my fans tonight." Rimes explained in a statement. "I had wanted to give them the show they deserved and only wish this tooth pain held out a little longer."
If there's a moral to this story, it's this: If you have tooth pain, don't wait to see a dentist. Call us right away!
A feeling of constant pain and pressure in your mouth is a clear indication that you may need a root canal. Another telltale symptom is sharp pain when you bite down on food, or lingering pain after eating something hot or cold. Not every symptom is as clear-cut, however — the only way to know for sure whether you need treatment is to come in for an evaluation.
Pain in your teeth or gums may be a symptom of a serious condition. Even if the pain goes away temporarily, an underlying infection generally does not. If a treatment such as root canal therapy is needed, the sooner it is obtained, the better you'll feel. And remember, root canal treatment doesn't cause tooth pain — it relieves it!
If you have any concerns about tooth pain, please contact us or schedule an appointment for a consultation. You can learn more in the Dear Doctor magazine articles "I'd Rather Have a Root Canal" and "Signs and Symptoms of a Future Root Canal."
By Drs. DuBose & Papadea Family & Cosmetic Dentistry
September 09, 2014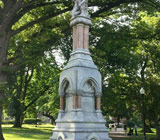 The next time you're visiting Boston, why not make time for a stroll in the city's renowned public garden? It's got a little something for everyone: acres of greenhouses and formal plantings, a picturesque pond where you can go for a paddle in swan-shaped boats, and the first (and perhaps the only) statue dedicated to an anesthetic gas.
Yes, the Ether Monument (also called "The Good Samaritan") is a vaguely Moorish-looking sculpture that commemorates the first use of anesthetic in a medical procedure. This ground-breaking event took place at nearby Massachusetts General Hospital in 1846. But if it seems that perhaps the park designers were feeling a bit light-headed when they commissioned this statue* then just think of what it would have been like to have a tooth drilled without it!
Today, of course, ether is no longer used for anesthesia; that's because medical science has developed far better ways to make sure you don't feel pain when you're having a procedure. However, we do still use a gas for people who need a little more help relaxing during dental treatment. It's called nitrous oxide, but sometimes goes by the nickname "laughing gas."
This sweet-smelling gas, mixed with oxygen, is often administered in a process called inhalation conscious sedation. It doesn't put you to sleep — you can still follow directions and respond to verbal cues — but it makes you very comfortable, and may even induce a slightly euphoric feeling, which wears off quickly when the gas is stopped. That's what makes it ideal for some dental procedures: It's quite effective for people who might otherwise have a great deal of dental anxiety, yet it's quick, easy and safe to administer — and you can usually drive yourself home afterward.
Sometimes, however, you may need even more relaxation — for example, if you're having multiple wisdom teeth extracted. In this case, it may be best to use intravenous (IV) conscious sedation. Here, the precise amount of medication you need is delivered directly into your bloodstream via a tiny needle. As with nitrous oxide, you'll remain conscious the whole time, but you won't feel any pain — and afterward, you probably won't remember a thing.
Sedation dentistry has come a long way since the days of ether… but making sure you don't feel pain or anxiety remains a critical part of what we do. Before a procedure, we'll talk to you about what type of anesthesia is best — and if you have any questions or concerns, we'll work with you to make sure you have the best experience possible. If you would like more information about sedation dentistry or relieving dental anxiety, call our office for a consultation. You can learn more in the Dear Doctor magazine articles "Oral Sedation Dentistry" and "Sedation Dentistry For Kids."