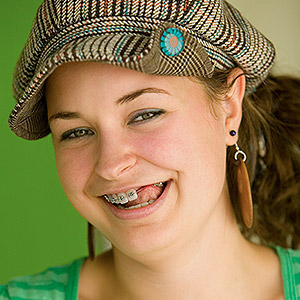 Dentists remove millions of teeth each year, often because of tooth decay or gum disease. But disease isn't the only reason—a tooth extraction might make it easier to straighten a crooked smile.
Realigning teeth for therapeutic or cosmetic reasons is a regular undertaking in dentistry, but the process itself often differs from person to person. Each individual patient requires their own treatment plan taking into account factors like the kind of bite problem involved, the size of the jaw and the space available to move teeth.
This plan could indeed involve removing teeth. For example, an abnormally small jaw could cause crowding. Not only can crowding move teeth out of position, it may also leave little to no room for moving teeth. Although dentists can minimize crowding by influencing jaw development in early childhood, removing teeth for more space is usually the only option available to older adolescents and adults.
Similarly, teeth can fail to erupt properly and remain partially or fully submerged beneath the gums (known as impaction). There is an orthodontic method for pulling an impacted tooth fully onto the jaw, but only if the tooth isn't too far out of alignment. Otherwise, it may be better to remove the impacted tooth and then correct any gaps with braces or a dental implant.
There's also a situation on the opposite side of the spectrum that could benefit from teeth removal—when one or more permanent teeth fail to form, known as congenitally missing teeth. This can cause gaps in the smile or a "lopsided" appearance where a tooth on one side of the jaw is present while its counterpart on the opposite side of the jaw is missing.
The missing tooth can be replaced by an implant, bridge or other restoration. But another option may be to remove the existing counterpart tooth, and then close the gaps. This can result in a much more attractive smile that might be simpler and less costly than replacing the missing tooth.
Again, the decision to remove teeth to improve smile appearance depends on the patient and their particular dental condition. But in the right situation, it could make straightening a smile easier and more effective.
If you would like more information on orthodontic treatments, please contact us or schedule an appointment for a consultation. You can also learn more about this topic by reading the Dear Doctor magazine article "Removing Teeth for Orthodontic Treatment."