My Blog
Posts for: February, 2020
By Dr. Papadea Family & Cosmetic Dentistry
February 20, 2020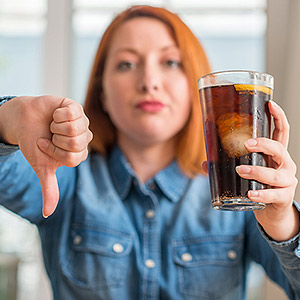 You can find some version of the ever popular kids' meal at most major fast-food restaurants. It's a neat little package: child's size portions of burgers, chicken nuggets or sides—and often a small toy or treat to boot—all tucked into its own colorful cardboard container.
The drive-thru menu board at your favorite fast-food joint gives you plenty of choices to fill out your child's meal. But you may notice something missing on many major chains' kids' menus—the mention of soft drinks as a beverage choice. You can still get one for your child's meal, but the visual cue is no more on the menu board.
None of the "Big Three"—Burger King, McDonald's or Wendy's—post soft drinks as a menu item for their kid's meals. It's the result of an effort by health advocates promoting less soda consumption by children, the leading source of calories in the average child's diet. With its high sugar content, it's believed to be a major factor in the steep rise in child obesity over the last few years.
Sodas and similar beverages are also prime suspects in the prevalence of tooth decay among children. Besides sugar, these beverages are also high in acid, which can erode tooth enamel. These two ingredients combined in soda can drastically increase your child's risk of tooth decay if they have a regular soda habit.
You can minimize this threat to their dental health by reducing their soda consumption. It's important not to create a habit of automatically including sodas with every meal, especially when dining out. Instead, choose other beverages: Water by far is the best choice, followed by regular milk. Chocolate milk and juice are high in sugar, but they're still a healthier choice than sodas due to their nutrient content.
Keeping sodas to a minimum could help benefit your child later in life by reducing their risk for heart disease, diabetes and other major health problems. It will also help them avoid tooth decay and the problems that that could cause for their current and future dental health.
If you would like more information on these and other effective practices for protecting your child against tooth decay, please contact us or schedule an appointment for a consultation.
By Dr. Papadea Family & Cosmetic Dentistry
February 10, 2020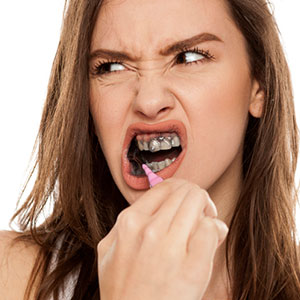 The Internet is truly amazing: It takes only a few seconds to tap into a vast store of knowledge to find information that once took people hours or days. But amidst all that helpful data, there's also some not so helpful information—in fact, some can be downright harmful, including to your dental health.
One particular Internet trend is brushing teeth with black, gooey substances containing activated charcoal. Scores of online videos featuring people doing this are getting viral views, perhaps more for the "gross" factor than the claimed health benefits.
So, why do it? Advocates of using activated charcoal for oral hygiene claim the ingredient kills harmful microorganisms in your mouth. The charcoal is also supposed to whiten your teeth.
But clinical studies of the practice, including one recently published in the Journal of the American Dental Association have been unable to substantiate these claims. There's simply no evidence that activated charcoal does what its advocates say it can do.
Unfortunately, there is evidence the practice can actually harm your teeth. This is because activated charcoal is an abrasive substance that over time could damage your teeth's enamel. Eroded enamel doesn't regrow, so eventually the more vulnerable dentin, the tooth layer just beneath the protective enamel, becomes exposed. It's not only darker and less attractive than enamel, its more susceptible to tooth decay and cavities.
The best way to care for your teeth, brushing and flossing daily, may seem boring compared to videos of brushing with charcoal, but it is effective—and safe. You should also see your dentist for more thorough cleanings at least every six months to round out your dental care.
And if you want a brighter smile, your dentist can perform a tooth whitening procedure that can give you months or even years of satisfaction. Professional tooth whitening (or even home whitening kits applied properly) also won't harm your enamel.
If you would like more information on the best ways to clean and care for your teeth and gums, please contact us or schedule an appointment for a consultation.